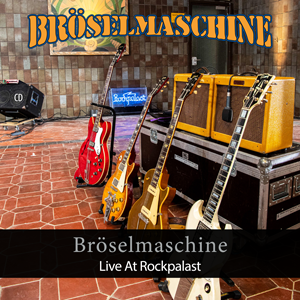 Bröselmaschine – Live At Rockpalast
"When the call came from WDR Rockpalast, we were thrilled. And the joy grew from day to day," says Peter Bursch, head of the German Krautrock legend Bröselmaschine, founded in 1968 by "Germany's most famous guitar teacher." Back in 1968, the Heinrich-Robert coalmine in Hamm was still in its full bloom. Coal had been mined there since 1901, the year in which the Heinrich and Robert shafts – as they are called in miners' jargon – were "abgeteuft", followed by the Franz shaft in 1923. On November 10, 1997, the colliery closed its doors forever.
In the colliery's former wage hall, where the miners used to receive their envelopes with their weekly wages, Bröselmaschine rolled out carpets, plugged in cables and set up their instruments on April 20, 2021. The high-ceilinged rooms not only provided a matchless scenery, but also the basis for a unique ambient sound. The perfect setting for Bröselmaschine. But Corona had almost completely paralyzed public life at this point; the pandemic was taking its toll on the entire cultural scene. Spectators were not allowed to the events. The artists and bands gave concerts anyway, sometimes from their flats, rehearsal rooms or in small, empty clubs, and then came to the fans' homes via live stream. This also applied for the WDR's Rockpalast with its "Offstage" series. The makers of Rockpalast organized concerts with performances by artists in special places that were deserted during the lockdown. That had its own charm and was something very special.
This was also the case with Bröselmaschine. The band played almost exclusively songs from their latest studio album "Elegy" from 2019, as well as the title track of the previous album "Indian Camel" and as a finale the Marc Bolan cover of "Children Of The Revolution". Bröselmaschine put on a great performance, no one missed the audience that was not physically present. But it was there, this audience. And it was in the hearts of the musicians. You can feel this with every note this outstanding band was playing. Never were Bröselmaschine more musically valuable than on that special occasion. But judge for yourself.
Tracklist CD:
Bliss 04:27
Elegy 04:33
Oriental Mind 05:14
I'd Rather Go Blind 06:48
Black Is Your Color 04:52
Indian Camel 10:16
Fall Into The Sky 05:43
Sole Ruler 07:05
Pajaro 06:52
Children Of The Revolution 04:02
Total: 59:52 min
Tracklist LP:
Side A:
Bliss 04:27
Elegy 04:34
Pajaro 06:52
Black Is Your Color 04:53
Side B:
Indian Camel 10:16
Fall Into The Sky 05:42
Oriental Mind 05:14
Children Of The Revolution 04:02
Total: 46:00 min