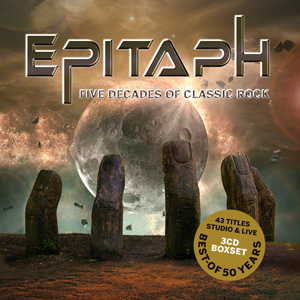 3CD

Date : 26.06.2020
Package : CD Digipack
Running Time CD 1 : 79:08
Running Time CD 2 : 76:37
Running Time CD 3 : 60:36
Epitaph – Five Decades Of Classic Rock
In 2020 EPITAPH celebrated their 50th anniversary. Reason enough to celebrate this with a new album and corresponding tour. The new album contains the best of Five Decades of Classic Rock  in a 3 CD box and is the culmination of their 50-year journey through the world of rock. This very varied and personal musical statement takes the listener from the cellars of the Fantasio Club in Dortmund to the leading rock and blues venues of Chicago, with all the trials, tribulations, successes and broken dreams that have made EPITAPH what they are today: a top-flight, classic rock band.
Only a handful of German rock bands can be described as legendary, and EPITAPH is definitely one of them. Founded in 1969, in the 70s they wrote music history. They were the first German band to tour the USA several times, producing their album "Outside The Law" in Chicago in 1974. They made their name in Germany with TV appearances on Beat Club and Rockpalast. Touring with Joe Cocker, Rory Gallagher, Golden Earring and ZZ-Top, as well as countless festival appearances, EPITAPH became one of the most popular German rock bands, quickly gaining a cult following.
Over the past 50 years the band has released a total of 18 studio and live albums, 23 if you count the digital re-releases. Things got a little quieter in the 80s and 90s, but Epitaph returned in full swing in the new millennium. The 21st century studio albums "Remember The Daze", "Dancing With Ghosts", "Fire From The Soul" and "Long Ago Tomorrow" are albums of timeless rock music.
Also a delight for fans is the CD/DVD box Live At Rockpalast with all three Rockpalast concerts, plus the Beat Club recordings as bonus material. The Acoustic Sessions album made Place 31 in Germany's ECLIPSED magazine's top 100 rock and pop albums of 2014. EPITAPH released a live CD/DVD box A Night At The Old Station in 2016.
The current line-up consists of the founding members Cliff Jackson (guitar/vocals) and Bernd Kolbe (bass/vocals), as well as Heinz Glass (guitar), who joined the band back in the 70s. The latest addition to the band is drummer Carsten Steinkämper. A native of Dortmund, he studied percussion at the Maastricht Conservatory in the Netherlands from 1997 to 2001.
---
Tracklist:
CD 1 (1971 – 1985):
Stop Look And Listen 10:32
Visions (Acoustic) 04:03
Early Morning 06:29
Crossroads 07:33
Little Maggie 04:18
Reflections 05:15
Woman 04:18
Big City 05:52
In Your Eyes 02:49
Return To Reality 07:34
On The Road 05:11
Bad Feeling 03:45
Summer Sky 03:32
Heartless 04:30
Ain't No Liar 03:27
Total: 79:08 Min.
CD 2 (2000 – 2019):
Hole In My Head 04:56
Cold Rain 05:11
Evermore 03:58
Remember The Daze 06:34
Ships In The Dark 03:55
East Of The Moon 05:28
Dancing With Ghosts 03:30
Ride The Storm 06:15
Can't You See 06:57
Nightmare 05:30
One Of These Days 05:22
Sad Song 03:30
Windy City 04:22
Lost In America 05:49
Keep Standing Like A Rock 05:20
Total: 76:37 Min.
CD 3 (Covers, Demos & Jams):
What's Going On 03:21
Are You Ready 02:02
Sympathy 03:33
Albatross 04:36
All Along The Watchtower 04:01
Edge Of The Knife 05:27
Villanova Junction 03:55
Love Child 04:31
Good Times 04:06
Who Do You Love 09:00
Train To The City 04:01
Outside The Law (Acoustic Jam) 08:16
Sad Song (Paramabira Choir) 03:47
Total: 60:36 Min.
3CD Total: 216:21 Min.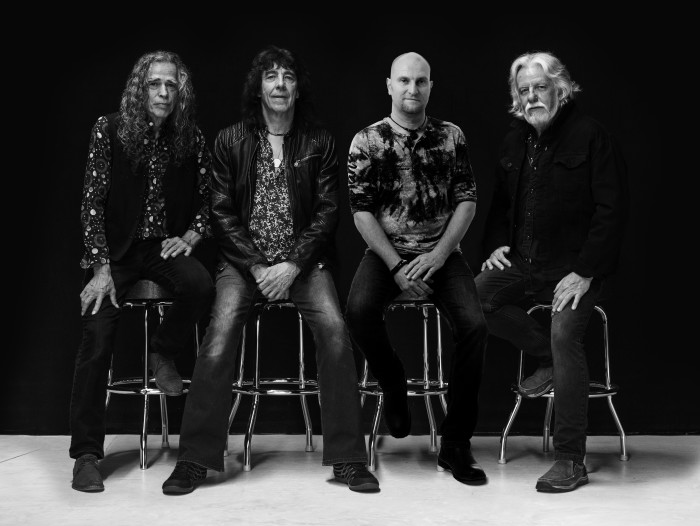 Videos