fDELUXE – Gaslight
The name has changed, the faces remain the same.
fDeluxe were previously known as 'The Family a project initiated by Prince after the success of the movie Purple Rain.
Band members included St. Paul Peterson, Jellybean Johnson (both of members of The Time) Susannah Melvoin and Eric Leeds. Their only album, titled "The Family," released in 1985 on the Paisley Park/Warner label spawned a top 10 R&B hit ('Screams Of Passion') and introduced 'Nothing Compares 2 U' which was famously covered by Sinead O'Connor. Their debut CD has become a cult classic and has been cited by numerous artists from R&B acts like Rahsaan Patterson to legends including Paul McCartney & Robert Palmer. 2011 Grammy Winner Questlove of The Roots says their debut is "one of the most unheralded funk records of all time" (GQ Magazine)!
Now, after many years, the band is back. However, due to a variety of differences with their former mentor no longer use 'The Family' name … the band is now fDeluxe. The new album, titled Gaslight, is pure funk.
The very best of the Minneapolis & LA music scene came together for this album, among them 2010 Emmy winners and extended family Wendy & Lisa (Wendy being Susannah's twin), as well as Ricky Peterson, Doyle Bramhall (Eric Clapton), Oliver Leiber, and Charley Drayton (Xpensive Winos, Fiona Apple).
---
Player
Tracklists:
01.DRUMMERS AND HEALERS
02.OVER THE CANYON
03.GASLIGHT
04.BEAUTIFUL YOU
05.@8
06.THE VIGIL
07.LEEDS LINE
08.LOVER
09.WHEN YOU GO
10.SANCTIFIED
11.LAST HOUSE ON THE BLOCK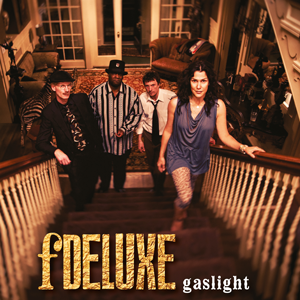 Gaslight (CD - Single)
1. Gaslight (album version) 4:17
2. Midnight Gaslight (Jackhouse Remix) 5:38
3. Gaslight (MMI Remix) 4:33
4. Gaslight (extended version) 5:02
CDS Over The Canyon/Sanctified
"Over The Canyon" - Radio Edit
"Over The Canyon" - Album Version "Sanctified" - Album Version
"Sanctified" - Strawberrius Remix
DRUMMERS AND HEALERS (12INCH-MAXI VINYL)
Side A:
1. Drummers And Healers 5:53
(St.Paul Peterson, Susannah Melvoin, Doyle Bramhall II, Jason Peterson DeLaire)
Amsterdam Remix
Remixed by St. Paul for St. Paul Productions & JP DeLaire for Tender Girl Music
2. Sanctified 2:34
(Oliver Leiber, Susannah Melvoin, St.Paul Peterson)
Strawberrius Remix
Remixed by John Fields
Side B:
1. Midnight Gaslight 5:37
(St.Paul Peterson, Susannah Melvoin)
Jackhouse Remix
Remixed by GirlBrothers
2. Gaslight 4:33
(St.Paul Peterson, Susannah Melvoin)
MMI Remix
Remixed by St. Paul for St Paul Productions, PP DeLaire for
Tender Girl Music & James "Fluff" Harley for World Record Productions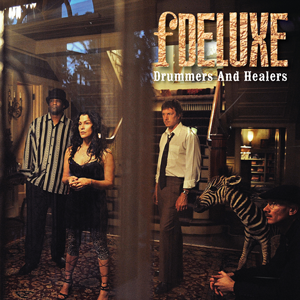 DRUMMERS AND HEALERS (CD - Single)
1. Drummers And Healers (album version) 3:48
(St.Paul Peterson, Susannah Melvoin, Doyle Bramhall II, Jason Peterson DeLaire)
2. Drummers And Healers (Tchad Blake Remix) 6:50
(St.Paul Peterson, Susannah Melvoin, Doyle Bramhall II, Jason Peterson DeLaire)
Remixed by Tchad Blake
3. Drummers And Healers (Amsterdam Remix) 5:53
(St.Paul Peterson, Susannah Melvoin, Doyle Bramhall II, Jason Peterson DeLaire)
Remixed by St.Paul for St.Paul Productions & JP DeLaire for Tender Girl Music
4. Drummers And Healers (extended version) 6:38
(St.Paul Peterson, Susannah Melvoin, Doyle Bramhall II, Jason Peterson DeLaire)
5. Over The Canyon (album version) 3:50
(St.Paul Peterson, Susannah Melvoin, Jason Peterson DeLaire)
6. When You Go (alternative piano mix) 3:18
(St.Paul Peterson, Susannah Melvoin)