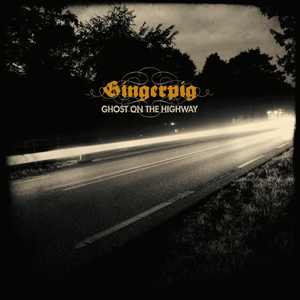 GINGERPIG – Ghost On The Highway
The title of the new Gingerpig album, Ghost On The Highway, wasn't chosen randomly. It is a reference to the musical journey of Gingerpig, to the passion and the urge that has pushed them forward to three albums now. Founder and frontman of Gingerpig, Boudewijn Bonebakker, is clear about it:"Music is my way to stay ahead of my personal ghost on the highway."
Ghost On The Highway is not just the result of years of perfecting the sound of Gingerpig. That sound is not the goal for Gingerpig, it's the vehicle with which the story is being told. More than anything else it is the almost haunted intensity and conviction behind the songs that impresses and pulls you in.
Five years ago Gingerpig's journey started with the preparations for their first album. The grand experiment The Ways of the Gingerpig was built on the conviction that the listener can't be fooled. Bonebakker and his associates opened up their suitcases and started off with lots of musical luggage and even more ideas and with their first they delivered a loving mix of seventies rock, blues, fusion and (post-) metal. The band had set just one single limit for themselves: making music.
During the course of their search and their wanderings, the musical focus of Gingerpig sharpened. The identity and style of the band ripened fast and the eclectic character of their music matured. This culminated on the album Hidden from View, on which the organic sound and the sincere approach came more to the forefront.
This development has continued on Ghost on the Highway but clearly the boys haven't found their calm yet. Sure, Gingerpig sounds more weathered, more intense and louder than ever, a very distinct and recognisable loud that works in clear unity with the lyrical content, but the restlessness stays.
Haunted, mean & lean by their musical travels, Gingerpig dispose most of their garnish and fringe on Ghost on the Highway and deliver not only musically but also lyrically a surprising resolute and thunderous rock album.
---
Player
Tracklists
CD:
1. The Nature Of The Fool 04:45
2. Five River Swamp 03:30
3. Stay Down 04:06
4. Hear Me 06:29
5. Ghost On The Highway 04:57
6. Brace Before The Fall 04:17
7. Burning Up The Road 03:35
8. A Lifetime Of Murder 03:47
9. The Dog At The Gate 03:57
Exclusive CD-Bonustrack:
10. Dance On The Volcano 03:05
Total: 42:48
LP:
Side A:
1. The Nature Of The Fool 04:45
2. Five River Swamp 03:30
3. Stay Down 04:06
4. Hear Me 06:29
Side B:
5. Ghost On The Highway 04:57
6. Brace Before The Fall 04:17
7. Burning Up The Road 03:35
8. A Llifetime Of Murder 03:47
9. The Dog At The Gate 03:57
Total: 39:26
Video