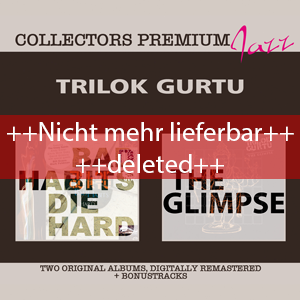 2CD

Date : 14.11.2014
Package : 2CD Boxset
Running Time CD 1 : 73:45
Running Time CD 2 : 52:37 + Bonus 9:36
Trilok Gurtu – Bad Habits Die Hard & The Glimpse
The French pianist Andy Emler had parted ways with his fellow compatriot Daniel Goyone, and just as his predecessor did he created a supporting axis within the group and stepped in as the co-arranger. David Gilmore serves as the guitarist in "Bad Habits Die Hard" and Chris Mihn Doky as the bassist. The guest musicians in this live recording from the Cologne Stadtgarden are two Americans: violinist Mark Feldman and saxophonist Bill Evenas. Both musicians fit smoothly in the group context: Electro-acoustic fusion, precise, virtuous, and forceful. Rhythmic fireworks and Gurtu's inimitable grooves switch to wide textures with soundscapes far away from Indo-esotericism.
The 1996 studio album "The Glimpse" documents Gurtu's serious, cliché-free and progressive openness to diverse world music cultures: India, North Africa, South America, East Europe. All are represented through instruments such as the veena, qarqaba and daval, as well as through musicians such as Geetha Bennet from India, Native American Jaya Deva, Nando Carneiro from Brazil and Teodosil Spassov from Bulgaria. Emler, the Swedish Bassist/Cellist Lars Danielsson and the Italian trumpeter Paolo Fresu completed a collection of musicians, thus creating a little UN.
In addition to the both newly remastered albums a 2008 Radio Bremen concert recording is included as a bonus where Gurtu presented a pianoless quintet at the Jazzahead Festival. This authentic international band, or an Indian-international band as it was perceived consisted of Italian violinist Carlo Cantini, the Austrialian saxophonist, flautist and didgeriddo player Phil Drummy, German-Spanish guitarist Roland Cabezay and the Italian bassist Stefano Dall'Ora.
All recordings guide our ears through Trilok Gurtu's exceptional position as a percussionist and drummer. They also display Gurtu's underrated composing qualities and his integrating abilities as a leader and catalyst. He is someone that makes his visions come to reality, something that is easily ignored in today's world: The creative force a band can create.
---
Player
Tracklisting:
CD 1 (Bad Habits Die Hard):
21 Spices 09:33
Bad Boys 08:38
Returning Home 12:50
Siddhi 11:15
Watapa 07:50
Bad Habits Die Hard) 10:06
Carlinhos 13:33
CD 1 Total: 63:33
CD 2 (the Glimpse):
Cherry Town 05:14
1-2 Beaucop 05:43
Law Years 07:52
A Ilha So Caju 06:33
Future Heat 10:49
Glimpse 06:48
Don 09:38
Bonustrack:
Glimpse (Live) 09:36
CD 2 Total: 62:13