Ian Hunter – Strings Attached
While Mott the Hoople were one of the greatest British rock bands of the 1970s, they were also a band unafraid to wear their hearts on their sleeves, and it's hard to imagine any other group of pile-driving boogie merchants who could have gotten away with songs as emotionally naked as "Sea Diver," "Hymn for the Dudes," or "I Wish I Was Your Mother." Nearly 30 years after Mott the Hoople called it a day, frontman Ian Hunter was still rocking out, but he hadn't lost touch with his inner softie either, and this live album, recorded during a pair of Oslo concerts in early 2002, gives him the chance to put his more personal side front and center for an evening.
Recorded with a primarily acoustic band and a large string section helping out, Strings Attached features a set of Mott the Hoople classics and great songs from Hunter's solo career as he demonstrates the blend of hard-edged sentimentality and street smarts that has informed so much of his best work. In typical neo-Unplugged fashion, Strings Attached doesn't rock much, but it has a bit more backbone than you might expect — the stripped-down versions of "All the Way From Memphis" and "Once Bitten, Twice Shy" are good rollicking fun — and it finds Hunter in strong voice, calling up the sort of passion that marks his best music.
Part of what makes Hunter's songs so effective is the way he can tap into the deeper and more complex emotions that lurk inside even the toughest rocker's heart, and put them into song in a way that honors their delicacy without sounding mushy or saccharine. Strings Attached gives Hunter the space to honor this side of his repertoire, and the results are both good fun and emotionally potent stuff. So go on, grab a beer, sing along, and don't fight that lump in your throat — that's what Ian Hunter wrote these songs for in the first place
---
Tracklisting :
CD 1
01.    Rest In Peace 06:31
02.    All Of The Good Ones Are Taken 03:31
03.    I Wish I Was Your Mother 05:48
04.    Twisted Steel 03:10
05.    Boy 09:09
06.    23A Swan Hill 05:22
07.    Waterlow 03:48
08.    All The Young Dudes 05:42
09.    Irene Wild 05:05
10.    Once Bitten, Twice Shy 05:30
CD 1 Total: 53:36
CD 2
01.    Rollerball 05:27
02.    Ships 06:10
03.    A Nightingale Sang In Berkeley Square 03:59
04.    Michael Picasso 08:20
05.    Wash Us Away 04:27
06.    Don't Let Go 03:56
07.    All The Way From Memphis 05:28
08.    Roll Away The Stone 05:03
09.    Saturday Gigs 06:30
CD 2 Total: 49:23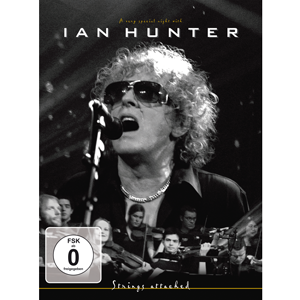 Tracklisting DVD :
Rest In Peace 06:31
All Of The Good Ones Are Taken 03:31
I Wish I Was Your Mother 05:48
Twisted Steel 03:10
Boy 09:09
23A Swan Hill 05:22
Waterlow 03:48
All The Young Dudes 05:42
Irene Wild 05:05
Once Bitten, Twice Shy 05:30
Rollerball 05:27
Ships 06:10
A Nightingale Sang In Berkeley Square 03:59
Michael Picasso 08:20
Wash Us Away 04:27
Don't Let Go 03:56
All The Way From Memphis 05:28
Roll Away The Stone 05:03
Saturday Gigs 06:30
Subltitles (Interviews and Behind The Scences): English, Italian, German, French, Spanish