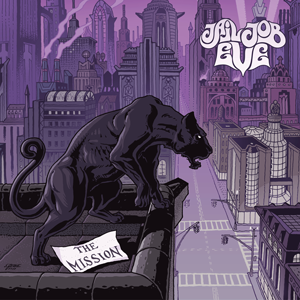 Jail Job Eve originally hail from all over Germany, studying music at the academy in Osnabrück/Lower Saxony and their love for rock music from the sixties and seventies finally brought the five young musicians together. After they had jammed together for the first time, it was immediately clear that they all had to start something new and exciting. In 2015, the highly acclaimed debut EP "Bird of Passage" was released.
After two long years of practicing, writing songs and touring, it was finally time for Jail Job Eve to record the first album. In autumn 2017 "The Mission" was produced at the Horus studio in Hanover, the studio founded by Frank Bornemann of Eloy in 1979. "The Mission" includes twelve brand new songs, an album incorporating a nice mix of rock, heavy stuff and blues like the explosive title track, the hard rocking "Dangerous Eyes" or the bluesy "Run Like Hell". Jail Job Eve are young and vital and the album has groove and soul as well as hooky chorus lines and some great music.
Lead-vocalist Victoria "Toja" Semel has an amazing voice, Benedikt Schlereth on guitar, Tim Beckers on bass, Josef Röhner on drums and Jens Niemann on organ.have a great deal of energy and you can feel it in all the songs presented here on their debut longplayer.
"The Mission" will be released in autumn this year, September 28th, on Hänsel&Gretel by MIG Music as CD and on all common digital platforms for downloading and streaming. This is a very respectable solid, highly commercial and, in the best sense of the word, melodic album. You definitely will enjoy it.
Tracklist:
01. Back In The Game
02. Dangerous Eyes
03. Closer To The Rain
04. Nothing To Lose
05. The Mission
06. Run Like Hell
07. On The River
08. Place To Be
09. The Biggest Part
10. Pay To Play
11. Are You In?
12. What Remains