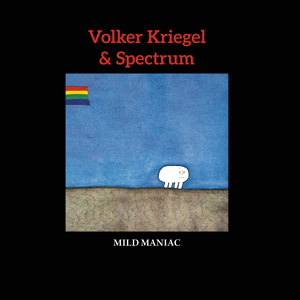 Volker Kriegel & Spectrum – Mild Maniac
Volker Kriegel (born 1943, died 2003) is one of the best and most important German jazz guitarists of the post-war period, internationally highly acclaimed he pushed the innovation of jazz rock. The inner circle of friends around his wife Ev Kriegel has now made an incredible treasure of old recordings from his various creative phases audible again. Previously unreleased live recordings as well as well-known material from his albums have been digitized and lovingly remastered. These audiophile pearls form the "Volker Kriegel Archive", which is now released on Moosicus.
The first release of "Mild Maniac" came in 1974 as a LP. Beside Volker Kriegel on the guitar they also played: Rainer Brüninghaus on the keys, Eberhard Weber on bass and Joe Nay on drums. Guest in the studio was Peter Giger on the percussion.
The bonus tracks are live recordings of the "Idsteiner Schlosskonzert 1977″.
Tracklist
01. Mindwill
02. Prinz Eisenherz
03. Schnellhörspiel
04. Mild Maniac
05. The Visit
06. D-Dödel
Bonustracks
07. Prinz Eisenherz (Live, Solo beim TV-Special "Volker Kriegel & Leo Kottke" 1977)
08. So Far, So Good (Live, Idsteiner Schlosskonzerte 1977)
09. Song For A Friend (Live, Idsteiner Schlosskonzerte 1977)
10. Natural Space (Live, Idsteiner Schlosskonzerte 1977)
11. Schnellhörspiel (Live, Idsteiner Schlosskonzerte 1977)
Vinyl:
Side A:
Mindwill 06:47
Prinz Eisenherz 04:37
Schnellhörspiel 05:27
Mild Maniac 05:11
Side B:
The Visit 07:27
D-Dödel 12:13
Side C (Bonustracks):
Prinz Eisenherz (Live, Idsteiner Schlosskonzert 1977)                               05:12
So Far, So Good (Live, IdsteinerSchlosskonzert 1977)                               03:57
Song For A Friend (Live, Idsteiner Schlosskonzert 1977)                          03:37
Natural Space (Live, Idsteiner Schlosskonzert 1977)                               03:49
Side D (Bonustracks):
Schnellhörspiel (Live, Idsteiner Schlosskonzert 1977)                               12:22
LP Total:          70:48
---