Lonnie Donegan meets Leinemann – Collectors Premium
The 1st national ragtime, rock & skiffle group LEINEMANN meets the english Elivis, the "King Of Skiffle", Mr. LONNIE DONEGAN. This all happened in 1974 and 1976. Under the headline "Donegan Meets Leinemann" they went on tour and recorded two very successful albums – "Lonnie Donegan Meets Leinemann" and "Lonnie Donegan Meets Leinemann  – Country Roads".  Between the musical mastermind and washboard virtuose Ulf Krüger and Lonnie Donegan arose a decade long friendship. And so it happened that Ulf Krüger a huge fan of Lonnie Donegan produced a few recordings for and with his idol. Donegan was thrilled as he heard these takes and said: "Let's release this Ulf!"
Sadly it shouldn't come to this – the "King Of Skiffle" died because of an heart attack on 11.03.2002 shortly before he should have performed in the London Royal Albert Hall during a concert to the commemoration of the Beatle George Harrison ("Concert For George"). Today, many years later, Ulf Krüger has opened up his archive and gave us three previously unreleased recordings from and with Lonnie Donegan, including a duet with the unforgotten grandmaster of skiffle, the genre which changed the music world in the early 1960s and became the cradle of European beat music.
Re-release of the successful albums of "King Of Skiffle" LONNIE DONEGAN together with the  Hamburgs Skiffle rockers LEINEMANN out of the years 1974 and 1976.
Containing three unreleased bonus tracks out of the collaboration of Donegan with Ulf Krüger and Leinemann.
Detailed Booklet with rare photos of Donegan and Leinemann, as well as detailed liner notes of Ulf Krüger (Leinemann).
DONEGAN MEETS LEINEMANN: bonus tracks
The English music legend and the "King of skiffle" Lonnie Donegan became a friend and a fan of his "Leinemen". They accompanied him under the headline "Donegan Meets Leinemann" on two big tours and two album productions. Among his close confidants was Leinemann mastermind, washboard virtuoso and singer Ulf Krüger who has realised several recordings as a tribute to his big idol in the 1990's as a producer. When Lonnie Donegan heard them, he was excited: "Let us release this, Ulf!"
Unfortunately, that never came about – Lonnie Donegan died in 2002 as a result from a heart attack shortly before he was due to appear in the memorial concert for Beatle George Harrison.
Today, many years later, Ulf has opened his archive and spends this re-release of  "Donegan Meets Leinemann" three unreleased tracks yet, all of them old skiffle standards, with and by Lonnie Donegan, including even a duet with the unforgotten grandmaster of skiffle music which has changed the world of music in the early Sixties and grew into the cradle of beat revolution in Europe.
---
LONNIE DONEGAN MEETS LEINEMANN Linernotes German:
(66.5 KiB)
Tracklisting: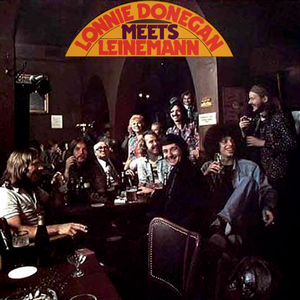 CD 1 "Lonnie Donegan meets Leinemann":
Casey's Last Ride
Bottle Of Wine
Dixie Darling
Frankie & Johnny
Tops At Loving You
Gloryland
Leinemann's Potatoes
Me & Bobby Mcgee
Does Your Chewing Gum Lose Its Flavour
Becky Deen
Jack O'Diamonds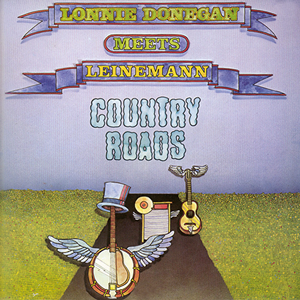 CD 2 "Country Roads":
Country Roads
Rock Island Line
Keep On The Sunny Side
Dixie Lily
Louisiana Man
Dead Or Alive
Midnight Special
Mule Skinner Blues
Roll In My Sweet Baby's Arms
Lost John
Have A Drink On Me
Dublin O'shea
Bonustracks:
Midnight Special
Lonnie D. (Medley)
Rock Island Line
---
Videos
Photos: