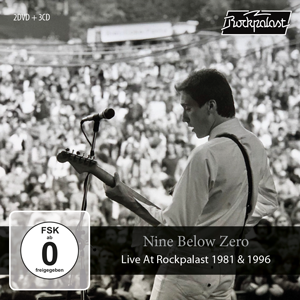 Nine Below Zero – Live At Rockpalast 1981 & 1996
For two times the British blues rock institution NINE BELOW ZERO has been guest at the "Rockpalast" in Germany. On August 29th 1981 the band played at the "Test Concert" for the "1st Rockpalast Open-Air Festival" on the famous Loreley rock in St. Goarshausen, Germany. Besides NBZ, bands like The Outlaws, 38 Special and Thin Lizzy were on stage either. The four blues rockers from South-London opened the festival in the afternoon, in the evening they already took the plane back to England to play the Reading festival the very next day.
15 years later, on June 23rd 1996, NBZ returned to the Loreley rock. The line-up for that evening included the Southern rockers of Molly Hatchet and Lynyrd Skynyrd, The Band and the Muddy Waters Tribute Blues Band. The day before David Bowie, Iggy Pop, Placebo and Pulp had already rocked the stage, a place teeming with history, tradition, legend and myths.
NBZ travelled with Donal Gallagher, the brother and former manager of Rory Gallagher, to the festival.
NBZ were announced as the "Band Of Friends" to give a tribute concert in honor of the Irish blues rock legend, who died the year before, because almost exactly on the day of the event, Rory's death anniversary was celebrated for the first time. NINE BELWO ZERO, this time with Dennis Greaves, Brendan O'Neill, Gerry McAvoy and Billy Boy, brought along their former singer and harmonica player Mark Feltham to the Loreley as well as ex-Thin Lizzy guitarist Brian Robertson, Robbie McIntosh from the Pretenders, Lou Martin, Rory's sideman in the 1970s, Paul Rose and the Irish folk band De Dannan. The "Band Of Friends"  aka NINE BELOW ZERO kicked the night off with some of their own set like "Soft Touch" or "It's Nothin' New" and then bringing their guests on to play some of Rory's favourite Blues classics songs as well as material from his own catalogue such as "Tattoo'd Lady", "Laundromat", "Bullfrog Blues" or "Messin' With The Kid".
---
Tracklist:
CD 1 / DVD 1
live @ Test Open Air, Loreley, 29.08.1981
Don't Point Your Finger At The Guitar Man 03:01
Homework 02:34
True Love Is A Crime 03:25
Ridin' On The L+N 04:25
Helen 03:11
Sugar Beat 04:02
Sugar Mama 05:10
Rockin' Robin 03:29
Treat Her Right 02:26
You Can't Please All The People All The Time 07:16
Why Don't You Try Me 03:30
Three Times Enough 02:08
One Way Street 08:11
Pack Fair And Square 02:08
Can't Say Yes Can't Say No 04:23
Total: 59:19
CD 2 / DVD 2
live @ Open Air Festival Loreley, 23.06.1996
It's Nothing New 03:24
Soft Touch 04:50
On The Road Again 07:36
Ridin' On The L & N 03:20
Tattoo'd Lady 04:55
Messin'With The Kid 03:44
I Wanna Be Loved (But Only By You) 02:28
The Loop 03:18
See See Baby 05:00
Total: 38:35
CD 3 / DVD 2
live @ Open Air Festival Loreley, 23.06.1996
Off The Handle 09:00
Laundromat 04:16
Let's Work Together 04:42
Don't Start Me Talkin' 05:34
Tore Up Over You 03:44
Medley: Boogie / Bullfrog Blues 12:01
I'll Admit You're Gone 04:38
The Mountain Road 05:16
Tico Tico 03:08
Total: 52:19