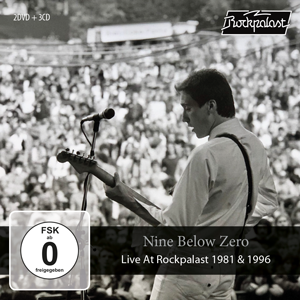 Nine Below Zero – Live At Rockpalast 1981 & 1996
Zweimal war die britische Bluesrock-Institution NINE BELOW ZERO bisher zu Gast beim "Rockpalast". Am 29.08.1981 spielten sie auf dem "Testkonzert" zum "1. Rockpalast Open-Air Festival" auf dem Loreleyfelsen in St. Goarshausen. Neben NBZ standen noch The Outlaws, 38 Special sowie Thin Lizzy auf der Bühne. Die vier Bluesrocker aus Südlondon eröffneten den Bandreigen bereits am Nachmittag, am Abend ging es mit dem Flieger zurück auf die Insel und weiter zum Festival nach Reading.
15 Jahre später, am 23. Juni 1996, kehrte NBZ zurück auf den Felsen. Im Line-Up des Abends standen neben den Südstaatenrockern von Molly Hatchet und Lynyrd Skynyrd noch The Band und die Muddy Waters Tribute Bluesband. Ein Tag zuvor hatten bereits David Bowie, Iggy Pop, Placebo und Pulp den geschichts- und mythenträchtigen Felsen gerockt.
NBZ reisten mit Donal Gallagher, dem Bruder und ehemaligen Manager von Rory Gallagher, an.
Angekündigt wurden NBZ als "Band Of Friends", um für die im Jahr zuvor verstorbene irische Bluesrocklegende zu Ehren ein Tribute-Concert zu geben, denn fast genau an dem Veranstaltungstag jährte sich Rorys Todestag zum ersten Mal. NINE BELWO ZERO, diesmal in der Besetzung mit Dennis Greaves, Brendan O'Neill, Gerry McAvoy und Billy Boy, brachten noch ihren ehemaligen Sänger und Mundharmonikaspieler Mark Feltham mit auf die Loreley sowie den ex-Thin Lizzy Gitarristen Brian Robertson, Robbie McIntosh von den Pretenders, Lou Martin, Sideman von Rory in den 1970-er, Paul Rose und die irische Folkband De Dannan. Die "Band Of Friends" rockte und blueste sich mit großer Spielfreude durch Gallagher-Klassiker wie "Tattoo'd Lady, "Laundromat", "Bullfrog Blues" oder "Messin' With The Kid". Aber auch die Klassiker aus dem NBZ Repertoire wie "Soft Touch", "Ridin' On The L & N" und "It's Nothin' New" durften an diesem gelungenen Abend nicht fehlen, für Gallagher – und Nine Below Zero – Fans war es die musikalische Vollbedienung.
---
Tracklist:
CD 1 / DVD 1
live @ Test Open Air, Loreley, 29.08.1981
Don't Point Your Finger At The Guitar Man 03:01
Homework 02:34
True Love Is A Crime 03:25
Ridin' On The L+N 04:25
Helen 03:11
Sugar Beat 04:02
Sugar Mama 05:10
Rockin' Robin 03:29
Treat Her Right 02:26
You Can't Please All The People All The Time 07:16
Why Don't You Try Me 03:30
Three Times Enough 02:08
One Way Street 08:11
Pack Fair And Square 02:08
Can't Say Yes Can't Say No 04:23
Total: 59:19
CD 2 / DVD 2
live @ Open Air Festival Loreley, 23.06.1996
It's Nothing New 03:24
Soft Touch 04:50
On The Road Again 07:36
Ridin' On The L & N 03:20
Tattoo'd Lady 04:55
Messin'With The Kid 03:44
I Wanna Be Loved (But Only By You) 02:28
The Loop 03:18
See See Baby 05:00
Total: 38:35
CD 3 / DVD 2
live @ Open Air Festival Loreley, 23.06.1996
Off The Handle 09:00
Laundromat 04:16
Let's Work Together 04:42
Don't Start Me Talkin' 05:34
Tore Up Over You 03:44
Medley: Boogie / Bullfrog Blues 12:01
I'll Admit You're Gone 04:38
The Mountain Road 05:16
Tico Tico 03:08
Total: 52:19