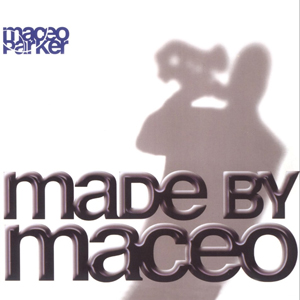 Maceo Parker – Made By Maceo
His sound is unmistakable. Bright, bold, rhythmically-charged with a gospel-tinged sting, it served as the perfect foil for James Brown's funky invocations through the '60s and '70s. Check out classic cuts like "Cold Sweat," "Lickin' Stick," "Papa's Got A Brand New Bag" and "Mother Popcorn." He's all over those tracks, blowing with gutsy abandon in a style coming out of Hank Crawford's earthy approach to alto sax but was indelibly stamped with a quality all his own. Back in the day, the Godfather of Soul would yell, "Maceo! I want you to blow!" And blow he did, like no one else.
Hear him wield that sax with funky authority on "Made By Maceo", his strongest and most dynamic outing to date.
---
Tracklist:
Come By And See 4:27
Off The Hook 3:47
Hats Off To Harry 4:37
Quick Step 3:58
Those Girls 4:34
Moonlight In Vermont 3:56
Lady Luck 6:25
Don't Say Goodnight 4:47
Once You Get Started 4:13
Those Girls (Bonus Instrumental Track) 4:52
Lady Luck Reprise 1:07
Total:   46:43 minutes
Tracklist LP:
Side A:
Come By And See 4:27
Off The Hook 3:47
Hats Off To Harry 4:37
Quick Step 3:58
Don't Say Goodnight 4:47
Side B:
Lady Luck 6:25
Moonlight In Vermont 3:56
Those Girls 4:34
Once You Get Started 4:13
Lady Luck Reprise 1:07
Total:   41:51 minutes