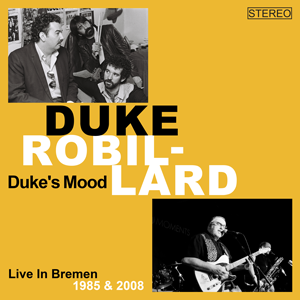 3CD

Date : 28.10.2022
Package : CD Jewel Case Box
Running Time CD 1 : 61:19
Running Time CD 2 : 54:24
Running Time CD 3 : 52:05
Duke Robillard – Duke's Mood – Live In Bremen 1985 / 2008
Duke Robillard, a guitarist of sublime musicality, is a master of rhythm and blues, swing jazz, rock'n'roll and pretty much every blues style under the sun.
His astonishing versatility is a consequence of how he experiences music. "When I first heard Hank Williams as a kid, to me that was blues; when I heard Chuck Berry and Fats Domino, that was blues; when I heard Muddy Waters, that was blues; when I heard Count Basie, a lot of that was blues," he told me in 2011. "To me it's all the same thing."
With Roomful Of Blues Robillard accompanied Big Joe Turner (a version of whose 'Honey Hush' is on Live In Bremen).
Robillard left Roomful Of Blues in 1980 and subsequently played with rockabilly revivalist Robert Gordon, The Legendary Blues Band, who featured ex-Muddy Waters sidemen, and The Fabulous Thunderbirds. Mainly, though, since the early 80s, he has led his own bands. Two of these, a 1985 trio (The Pleasure Kings) and a 2008 quintet (Duke Robillard Band), feature on Live At Bremen. On the two gigs represented on Live In Bremen both of Robillard's bands play with a deeply satisfying feel and sense of swing and with dazzling musicianship.
And, truly, anyone in those 1985 and 2008 Bremen audiences will surely feel that Robillard and his bands really did give them something that moved them. And those of us listening fourteen or thirtyseven years later, can only be grateful to finally be able to share in that profound emotional experience.
---
Tracklist:
CD 1 Live in Bremen 1985:
Anything it takes 04:32
It's my own business 04:16
Duke's mood 07:27
Too hot to handle 04:49
Someone 02:38
Long gone baby 06:58
Tore up 04:58
T-bone boogie 06:52
Let me love you baby 05:54
Tramp 07:07
Closing theme 05:48
CD 1 total: 61:19 Min
CD 2 Live in Bremen 2008:
Jump the blues for you 04:05
My tears 08:53
Blue coat man 06:18
Do the Memphis grind 11:32
Gee I wish 06:20
Fishnet 09:23
Just because 07:53
CD 2 total: 54:24 Min
CD 3 Live in Bremen 2008:
Swingin' with Lucy Mae 11:09
Gonna get you told 05:58
Goodtime Charlie 08:42
Honey hush 06:35
Glamour girl 09:08
Bounce for Billy 07:57
Hard way 03:36
CD 3 total: 52:05 Min