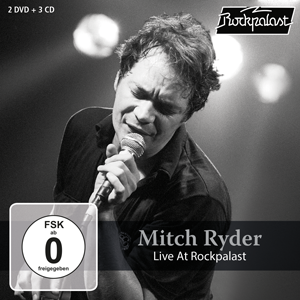 Mitch Ryder – Live At Rockpalast 1979 + 2004
Two medleys: "Jenny Take A Ride" consisting of the Rock's Evergreens "C.C. Rider" and Little Richard's "Jenny, Jenny" (1966), and "Devil With A Blue Dress On/Good Golly Miss Molly" (1966) – a single that was a million-dollar-seller – were MITCH RYDER & THE DETROIT WHEELS' greatest hits in the brief time they played together (1965-1966).
Mitch- born as William Levise Jr. on February 26th 1945 in Detroit – then decided to continue as a solo artist and immediately scored with another Top Ten Hit with "Sock It To Me, Baby" (1967).
When I met him in New York in spring of 1979, he had just released his critically acclaimed album "How I Spent My Vacation" (1978) with songs about his break from music spotlight.
We charged headlong into the pandemonium of New York's bars and clubs, many of which I probably would have never found without Mitch's help.
There we discovered we were both Pisces – and went under the same motto: "Only dead fish go with the flow".
The outcome of this was an invitation to the Rockpalast Eurovision Night at the Grugahalle in Essen, Germany on October 6th and 7th 1979. A memorable night – the "Famous Full Moon Concert" was born.
Three bands played: MITCH RYDER, Southside Johnny and The Nils Lofgren Band. And each of them was given a full day for rehearsal.
Although Mitch and his band were schedulded to play last on Saturday's concert, their rehearsal day was Wednesday, a long time between the two. The guys spent their nights in my hotel room playing "Aggravation" and emptying my minibar. Mitch was building up the aggression he needed as an artist.
On the day of the concert the band was way beyond what could be thought of as the end of their tethers.
When Mitch finally arrived, carrying a half-empty bottle of Jack Daniels, he was completely and totally drunk.His live interview with presenter Alan Bangs now is TV history, but at the time, as the producer in charge, I was within a hair's breadth of axing the whole thing.
But what followed was a real concert: Mitch gave his all and sung his heart out for the audience. The penetrating, impassioned cries of the soul searcher sent shivers right up our spines and deeply moved us, from "Ain't Nobody White Can Sing The Blues" ("Naked But Not Dead", 1979) to the final number, the Doors' "Soul Kichen".
On stage MITCH RYDER isn't an easy person to take – but we learned to love him.
25 years later in 2004 MITCH RYDER performed again at the Rockpalast, this time with the US-American guitarist Robert Gillespie and the German band Engerling.
This concert too appears in this set – uncut and with the same intensity.
Peter Rüchel, Rockpalast
---
Player
Tracklisting DVD:
DVD 1:
Grugahalle Essen, Germany, October 6th/7th 1979
01. Long Hard Road 6:17
02. War 8:28
03. Nice 'n' Easy 6:56
04. CC Rider/Jenny Take A Ride 4:13
05. Ain't Nobody White (Can Sing The Blues) 8:32
06. Devil With A Blue Dress On/Good Golly Miss Molly 3:51
07. Liberty 5:15
08. Dance Ourselves To Death 9:04
09. Wicked Messenger 3:30
10. Rock 'n' Roll 7:20
11. Tough Kid 5:39
12. True Love 7:07
13. Soul Kitchen 11:56
DVD 2:
Burg Satzvey, Germany, February 27th 2004
01. Yeah, You Right 6:42
02. From A Buick 6 5:00
03. Everybody Loses 5:05
04. True Love 7:33
05. The Porch 3:47
06. Ain't Nobody White (Can Sing The Blues) 6:04
07. CC Rider/Jenny Take A Ride 4:19
08. Rock 'n' Roll 6:15
09. Freezin' In Hell 8:40
10. Subterranean Homesick Blues 6:17
11. The Terrorist 4:57
12. Red Scar Eyes 11:42
13. Devil With A Blue Dress On 4:30
14. Heart Of Stone 11:47
15. Gimme Shelter 13:35
16. It Wasn't Me 6:38
17. Bass Intro/Little Wing 2:30
18. Soul Kitchen 13:01
Tracklisting 3CD:
CD 1:
Grugahalle Essen, Germany, October 6th/7th 1979
01. Long Hard Road 6:17
02. War 8:28
03. Nice 'n' Easy 6:56
04. CC Rider/Jenny Take A Ride 4:13
05. Ain't Nobody White (Can Sing The Blues) 8:32
06. Devil With A Blue Dress On/Good Golly Miss Molly 3:51
07. Liberty 5:15
08. Dance Ourselves To Death 9:04
09. Wicked Messenger 3:30
10. Rock 'n' Roll 7:20
11. Tough Kid 5:39
12. True Love 7:07
13. Soul Kitchen 11:56
CD 2:
Burg Satzvey, Germany, February 27th 2004
01. Yeah, You Right 6:42
02. From A Buick 6 5:00
03. Everybody Loses 5:05
04. True Love 7:33
05. The Porch 3:47
06. Ain't Nobody White (Can Sing The Blues) 6:04
07. CC Rider/Jenny Take A Ride 4:19
08. Rock 'n' Roll 6:15
09. Freezin' In Hell 8:40
10. Subterranean Homesick Blues 6:17
11. The Terrorist 4:57
CD 3:
01. Red Scar Eyes 11:42
02. Devil With A Blue Dress On 4:30
03. Heart Of Stone 11:47
04. Gimme Shelter 13:35
05. It Wasn't Me 6:38
06. Bass Intro/Little Wing 2:30
07. Soul Kitchen 13:01
 Photos: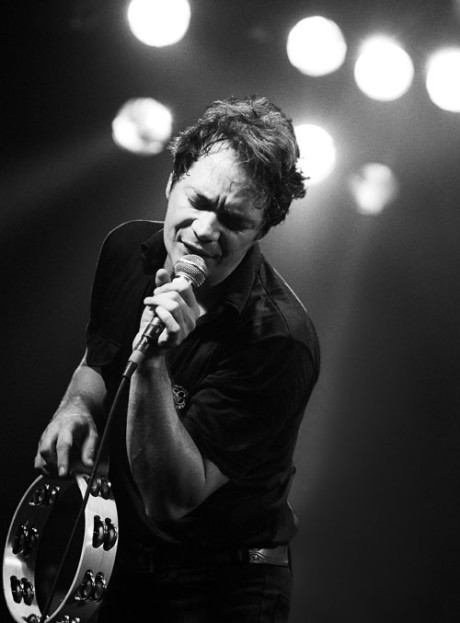 Photos by Manfred Becker