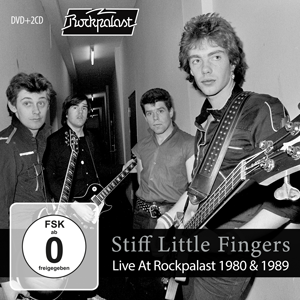 Stiff Little Fingers – Live At Rockpalast 1980 & 1989
The longest-tenured Irish punk band is undoubtedly Stiff Little Fingers – who have been bashing and thrashing since 1977. And the triple-disc set, "Live at Rockpalast 1980 & 1989", shows that the band remained a vital live band (and also, stayed true to their roots) throughout the '80s, despite a five-year hiatus smack dab in the middle of the decade.
Singer/guitarist Jake Burns has been the band's leader since their inception – with bassist Ali McMordie standing right alongside Jake most of the time – which saw Stiff Little Fingers being a part of the first-wave of Euro punk bands, which included the lofty likes of the Sex Pistols, the Clash, and the Damned, the Buzzcocks, the Jam, etc. And in the process, Stiff Little Fingers issued such classic punk LP's as "Inflammable Material", "Nobody's Heroes" and "Go for It" plus the punk anthems "Alternative Ulster", "Suspect Device" and "At the Edge".
Comprised of a total of three discs, "Live at Rockpalast 1980 & 1989" will certainly satisfy both your audio and visual needs – the first two discs are audio-only, featuring the 1980 and 1989 performances, while the third disc is a DVD of the group's classic 1980 appearance on Germany's long-running music show. Jake Burns still remembers: "The place was packed and the audience were with us from the first note. They were wonderful, singing and bouncing along. It really felt like a "home game" to use a football analogy. I thought we played really well too, apart from a slight timing mistake during "Back to Front", a new song we were still learning. (See if you can spot my giving Jim the "look of death" at that point! LOL!)."
---
Tracklist
CD1 & DVD - live @ Westfalenhalle, Dortmund / Germany, 30th November 1980
Nobody's hero 06:12
Barbed wire love 03:35
Wait and see 04:27
Gotta gettaway 03:36
Johnny was 09:24
Back to front 03:08
Fly the flag 03:26
Alternative Ulster 03:35
No change 02:09
fire coal-man 04:42
At the edge 02:40
Wasted life 04:47
Tin soldiers 05:38
Suspect device 02:34
Total CD1 & DVD: 59:53 Min
CD2 - live @ Philipshalle, Düsseldorf / Germany, 28th November 1989
Alternative Ulster 03:16
Gotta get away 04:08
Silver lining 03:49
Wasted life 03:30
Listen 04:10
Wild rover 02:50
Barbed wire love 04:46
Fly the flag 04:42
Tin soldiers 08:10
Total CD2: 39:21 Min
---
Tracklist
Vinyl - live @ Westfalenhalle, Dortmund / Germany, 30th November 1980

Sie A:
Nobody's hero 06:12
Barbed wire love 03:35
Wait and see 04:27
Gotta gettaway 03:49
Back to front 03:08
Fly the flag 03:26
Sie B:
Alternative Ulster 03:35
No change 02:09
fire coal-man 04:41
At the edge 02:40
Wasted life 04:47
Tin soldiers 05:09
Total: 47:38 Min