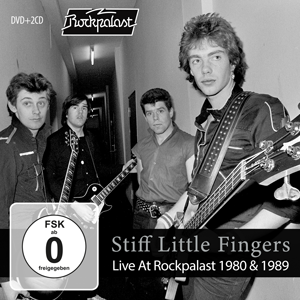 Stiff Little Fingers – Live At Rockpalast 1980 & 1989
1976 als Deep Purple Coverband gestartet, entdeckten die vier Schulfreunde, Sänger und Gitarrist Jake Burns, Gitarrist Henry Cluney, Bassist Gordon Blair und Schlagzeuger Brian Faloon, 1977 den Punk für sich. Nach Blairs Ausstieg aus der Band wurde er durch Ali McMordie ersetzt, der Name "Highway Star" schien nicht mehr passend für eine rotzige Punkband und so nannte man sich fortan Stiff Little Fingers.
BBC DJ Legende John Peel wurde auf die Band aufmerksam, für die Single "Suspect Device" besorgte er für STF einen Vertriebsdeal mit Rough Trade und die schwarze Scheibe ging innerhalb von kürzester Zeit 30.000 mal über den Ladentisch. Die zweite Single "Alternative Ulster" entwickelte sich nicht nur in Nordirland zu einer wahren Punkhymne. Der erste Longplayer "Inflammable Material" (erschien noch bei Rough Trade) erreichte Goldstatus in UK mit über 100.000 Verkäufen, die Band zog nach London und unterschrieb einen Plattendeal bei dem Major Label Chrysalis Records und man spielte sowohl beim "Rock Against Racism" als auch in der sehr beliebten BBC-Chartsshow "Top Of The Pops". STF waren neben Bands wie The Clash, Damned, Jam oder den Buzzcocks die Stars der Szene.
Im November 1980 folgte die Band zum ersten Mal einer Einladung des WDR-Rockpalastes in die Dortmunder Westfalenhalle, neun Jahre später folgte ein zweiter Auftritt beim WDR in der Düsseldorfer Philipshalle. Jetzt kommen beide Konzerte in einer Box, das 1980-er Konzert auf CD und DVD, 1989 nur auf CD, da es davon keine Bildmitschnitte gibt.
---
Tracklist
CD1 & DVD - live @ Westfalenhalle, Dortmund / Germany, 30th November 1980
Nobody's hero 06:12
Barbed wire love 03:35
Wait and see 04:27
Gotta gettaway 03:36
Johnny was 09:24
Back to front 03:08
Fly the flag 03:26
Alternative Ulster 03:35
No change 02:09
fire coal-man 04:42
At the edge 02:40
Wasted life 04:47
Tin soldiers 05:38
Suspect device 02:34
Total CD1 & DVD: 59:53 Min
CD2 - live @ Philipshalle, Düsseldorf / Germany, 28th November 1989
Alternative Ulster 03:16
Gotta get away 04:08
Silver lining 03:49
Wasted life 03:30
Listen 04:10
Wild rover 02:50
Barbed wire love 04:46
Fly the flag 04:42
Tin soldiers 08:10
Total CD2: 39:21 Min
---
Tracklist
Vinyl - live @ Westfalenhalle, Dortmund / Germany, 30th November 1980

Sie A:
Nobody's hero 06:12
Barbed wire love 03:35
Wait and see 04:27
Gotta gettaway 03:49
Back to front 03:08
Fly the flag 03:26
Sie B:
Alternative Ulster 03:35
No change 02:09
fire coal-man 04:41
At the edge 02:40
Wasted life 04:47
Tin soldiers 05:09
Total: 47:38 Min