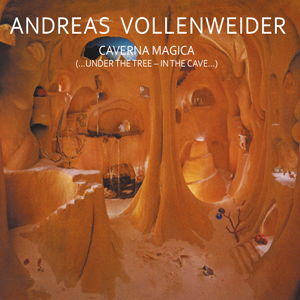 Andreas Vollenweider – Caverna Magica
"Caverna Magica" is the second studio album of world-music artist Andreas Vollenweider, originally released in 1983. It is almost completely instrumental and was the direct successor of Vollenweider's groundbreaking album "Behind the Gardens".
The album begins with the sound of the steps of a man and a woman speaking in an unknown language (some of the words – especially in Spanish – can be recognized when the title is played backwards) and then stumble into a reverberating cave and react with awe. The sound of the dripping water in the cave is transformed into the rhythm of the music that fades away at that point.
While the album originally stood on its own, it and the previous and subsequent albums ("Behind the Gardens – Behind the Wall – Under the Tree" and "White Winds") were re-released in 1990 as a double CD set entitled "Trilogy", suggesting that together they formed a single musical entity.
---
Tracklist:
Caverna Magica 03:51
Mandragora 03:12
Lunar Pond 02:10
Schajah Saretosh 03:27
Sena Stanjena 02:29
Belladonna 05:20
Angoh! 02:45
Huiziopochtli - Con Chiglia 05:07
Geastrum Coronatum 04:15
Pace Verde 05:44
Total: 38:24 Min
---