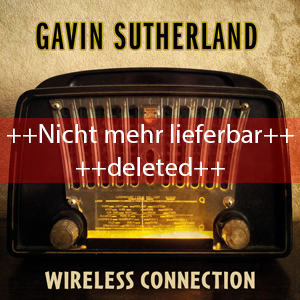 Downloads


PRINT Cover (4,4 MiB, 0 hits)
You do not have permission to download this file.


WEB Cover (1,9 MiB, 0 hits)
You do not have permission to download this file.


Presskit PRINT (6,7 MiB, 2 hits)
You do not have permission to download this file.


Presskit WEB (4,4 MiB, 1 hits)
You do not have permission to download this file.
Gavin Sutherland
Wireless Connection
Das Wirken und Schaffen von Gavin Sutherland allein an seinem Megaerfolg mit Rod Stewarts Version von "Sailing" festzumachen, wird dem gebürtigen Schotten nicht gerecht. Zu vielfältig war die Karriere mit seinem älteren Bruder Iain als SUTHERLAND BROTHERS oder SUTHERLAND BROTHERS AND QUIVER. In der Zeit von 1972 bis 1979 brachten es die Brüder auf acht vielbeachtete Alben, die sich durchweg alle entweder in den UK- resp. US-Charts platzieren konnten. Hinzu kamen einige veritable Singlehits, wobei das von den Sutherland-Brüdern geschriebene "(I Don't Want to Love You But) You Got Me Anyway" und vor allem "Arms Of Mary" (im Sommer 1976 europaweit fast in jedem Land auf #1) die bekanntesten waren. Nach der Veröffentlichung seines ersten Soloalbums "Beat Of My Heart" gönnte sich Gavin Sutherland für den Rest der 1980/1990-er Jahre eine musikalische Auszeit. Erst ab der Jahrtausendwende veröffentlichte Sutherland wieder kontinuierlich runde Scheiben.
Bis auf zwei Songs entstanden alle Kompositionen seines aktuellen Albums "Wireless Connection" in einer Art Zyklus und sind eine Reminiszenz an die Zeit, in der das Radio ("wireless") in den Familien noch den Lebensmittelpunkt für Unterhaltung und Information darstellte und vor allem die Musik aus der ganzen Welt in die Stuben der Hörer brachte.
Die Songs von "Wireless Connection" sollen entschleunigen, es geht um die eher ruhige Zeit vor dem rastlosen Internetzeitalter, es sind die Tage des guten, alten Radios. Gavin Sutherland kommt mit 12 Songs in bester Singer-/Songwriter Qualität mit einem Hauch von Americana und Folkrock.
---
Interview mit Gavin Sutherland zu "Wireless Connection"  
Do you remember the moment you decided you wanted to be a musician?
My father ran a dance band when I was very young so there was always music and talk about music around me as a kid. I got my first guitar when I was ten years old and wanted to be the next Hank Marvin. Then The Beatles came along, and that was it. I went to see 'A Hard Days Night' with my brother the week it was released and I knew then what I wanted to do with my life – in a band making music, travelling the world with good friends. Could there be a better job?
Of the many places round the country and the world you played. What was your favourite? And why?
Hard to say, so many good times out on the road. The Glasgow Apollo was always a great place to play, and there were places in the states that bring back great memories, Hollywood Bowl, Madison Square Garden and San Francisco Winterland would be hard to beat. The Marquee in London was another favourite of mine – great atmosphere in that little place. Played The Cavern a few times too when I started out. Walking up those little steps onto the stage there was a real buzz for a young guy just out of school, knowing who'd trod those boards before!
Looking back over your discography, what period stands out the most for either good or bad memories?
The first Suth Bros album was a big deal for us. Iain and I had been in London for a while looking for a record deal and we eventually got signed by Island, boom, the coolest label in the world at that time, working with great people in a great studio. Yeah, a dream come true. And then, a few years later, with SBQ on the CBS label we had our first real hit album with 'Reach For The Sky' and the single 'Arms of Mary'. Busy times, travelling and gigging a lot on both sides of the Atlantic.
Looking back at your work in SB&Q, what album stands as the group's milestone?
Has to be 'Reach For The Sky'. That was the one that opened the doors to headline gigs here, there and everywhere. TV shows and all that. Yeah, that one brought about a lot of changes.
What was your own best ever gig?
The first time we headlined at The Glasgow Apollo comes to mind. The band was at the top of its game and the crowd there was always great to play to. A really fantastic atmosphere in that place Great, fun loving people.
And what was your worst?
Back in the early days of my first band we played some pretty ropey places. The Pink Elephant Club near Wigan was something else. A smelly little dive owned by the guy who was managing us at the time. The club was a part of his imaginary business empire! Played there a few times. We used to dread going there, but it was a few quid and we always enjoyed a good curry in Manchester on the way home.
Played some strange places, but none stranger than the Zoom Club, Freiburg (I think?). Did a week there playing through the night to an audience, mainly GIs from the nearby US army base who came to the Zoom to unwind, lying on the floor facing the back wall under a sweet smelling blue fog, watching random clips from old silent movies as we did our thing. By the end of the week it all seemed quite normal!
Your new album is titled "Wireless Connection". What do you remember about your very first time listening to the radio?
As a kid we had a radiogram and my mum and dad played a lot of music on it from their collection of big band swing and jazz records, Hot Club de France, Benny Goodman, Glen Miller, all kinds of stuff. Radio shows at the time were pretty boring. I remember the kid's shows on a Saturday morning; "Uncle Mac" was the host, playing stuff like 'Tubby The Tuba' and 'The Runaway Train'. The BBC played it very safe in those days but I did enjoy the comedy shows on a Sunday afternoon. 'The Goon Show', and 'Around The Horn' were my favourites.
Which year was that?
Mid-fifties.
When did you get your first own "wireless", record player or tape recorder?
Would have been about 1960 when Iain got a transistor radio. We shared a bedroom so we'd  lie in bed late on a Sunday night and listen to 'the hit parade' on Luxembourg, 'Fabulous 208′. The signal was poor and it must have sounded terrible, but that didn't matter. This was our music! That's where we found rock n' roll. Chuck Berry, Buddy Holly, Eddie Cochran and a bit later, The Beatles, The Stones, and all that magic stuff.
Did the radio rather inspire you and your older brother Iain to play music yourself or was making music a tradition within your family?
A bit of both really. As I said, my dad was a dance band musician, played fiddle and accordion, so there was always music in and  the house, but it was the 'wireless' that  brought the music, that  Iain and I became obsessed with, into our lives.
Who was the first musician or singer you were inspire to emulate?
Hank Marvin, never was a Cliff fan, but I loved 'The Shads'. Hank's red Strat looked great and sounded wonderful!
What's the back story behind the song 'Peggy", and what inspired you to the lyrics of your new album "Wireless Connection"?
A few years ago I was researching local folk songs, the folk ballads and songs that played an important part in the traditional culture of the North East's traveller community.  These songs were handed down through generations, a part of the travellers' lore. Some of the people I spoke to still remember the time when they travelled the roads in horse drawn caravans. They spoke of their strong connection with the natural world and told tales of a romantic, spiritual world of magic rivers and wishing trees. Yeah, fascinating stuff.
After more than forty-five varied years of Gavin Sutherland's existence in the business, what's been the single biggest change in the music industry that you've noticed?
Must be the internet. The new form of 'wireless connection' that's opened up all sorts of possibilities for everyone, including of course musicians. For me it's been great to be able to hook up with other players and make music and of course being able to re-connect with old friends is a splendid thing. Some of the new album was recorded via the net and some with musicians in my home studio, a combination that worked just fine.
What are your feelings about the state of rock, folk rock music and Americana today?
There's a lot of great music around today but I feel privileged to have grown up through my formative years at a time when there was so much creativity and freshness in music. Being from North East Scotland, a part of the world well known for its traditional fiddle tunes and ballad song, the music that crossed the sea with the emigrants to 'The New World' and morphed into blue grass and country, I've always felt a connection with that simple, home-grown approach. I never felt that same connection with complex arrangements and 'clever' stuff. The old three chord trick has always been a close friend of mine. I think of it more as roots music, 'the people's music'.
If you could go open up for any artist on tour right now – who would it be?
Ry Cooder.
I've been trying not to mention "Sailing"…
Thank you!
Let me finish up with a question which makes me always curious: Which totally obscure record do you most treasure and would like more people to know about?
I don't have any really obscure records. I think my desert island album would have to be Ry Cooder's 'Paradise and Lunch', but I think everybody knows about that one?
Have you any final words for the Gavin Sutherland fans ahead of the release of "Wireless Connection"?
Making the 'Wireless' album with friends old and new was a deeply satisfying experience for me. We enjoyed putting this music together and hope you like what we've done. Cheers!
November 8, 2017
---
Tracklisting:
Peggy Told Me 03:29
Blueberry Wine 04:27
Stolen Dream 03:18
Wireless Connection 03:14
Microgroove 04:03
After The Storm (Revisited) 03:29
Old West Road 02:54
Merry Lights 03:29
Monkeys and Trees 03:29
The Thistle and The Rose 03:32
Show Mercy 03:22
The Nightbird's Song 03:15
CD total:          41:49