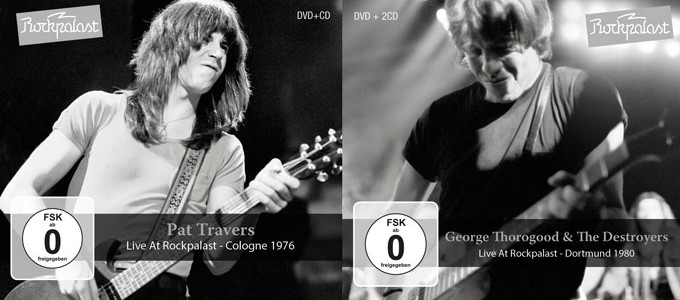 MIG Music transforms February 24, 2017, into a day for the blues – with three new releases in the series "Live At Rockpalast": the concert of Champion Jack Dupree from 1980, George Thorogood from 1980 and Pat Travers from the year 1976, one of his very first shows in Europe. All three of them love the blues, each interpreting it in his very particular style.
First in line is the concert of George Thorogood who is celebrating his 67th birthday on February 24. Happy birthday, George, and rock on! The native Bostoner had crossed over from the world of Minor League Baseball to music, more precise to blues rock. At the beginning of the Eighties, Thorogood and his destroyers offered a welcome change from electronic frills, punk or depressive wave. MTV and radio loved the dirty, loud and direct sound and helped the brilliant guitarist who was also named "satan of slide", to album gold. Of course, his first big hit "Bad To The Bone" is being played during the Rockpalast concert. These days he is one of the classics and can still be heard in TV series or the radio on a regular basis. At the end of February, George Thorogood is starting his tour through the United States.
The second guitarist with roots in the blues respectively blues rock who later turned more to the field of hard rock, is Pat Travers. His intoxicating, rough and dynamic Rockpalast performance on November 4, 1976, marked the big European breakthrough for young Canadian multi-instrumentalist who had just landed a major deal with Polydor in London. At that time, his band consisted of Peter "Mars" Cowling on bass and Nicko McBrain who is meanwhile drumming for Iron Maiden. Several albums later, in the 80's, when hard rock and blues orientated rock lost its impact due to punk and new wave, Travers moved back to the US where the scene was still hooked on the genre. Still, Travers has the best reputation as a great live act with all his full speed energy and he connected well with his fans.
Last but not least: the classical way like Champion Jack Dupree plays his barrelhouse piano blues. The versatile pianist and funny entertainer whose stories and accompanying commentaries between the songs give a notion of what important role this music used to have in a time when there were neither tv nor radio nor electricity. We have already honored the Champ with an extra contribution.