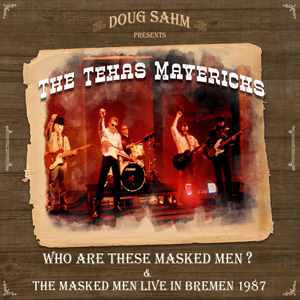 After THE BEAT FARMERS and Dick Montana, MIG Music releases another band with a charismatic front man: Doug Sahm and THE TEXAS MAVERICKS. Of course, the name Doug Sahm is being connected with the legendary Sir Douglas Quintet which became immortal with classics like "Mendocino", "She's About A Mover" and "Dynamite Woman".
The hyperactive artist crossed the borders between country, blues, influences from the British invasion, Honky Tonk und Psychedelia – all these varieties he cultivated mostly in parallel bands. Today, Sahm is regarded as one of the forefathers of Tex-Mex because he mixed all these influences with Mexican elements like Conjunto. In retrospect, it seems he had to hurry to present all of his ideas to the world because unfortunately, he died far too early.
Doug Sahm also founded The Texas Tornados which accordion legend Flaco Jiménez also is part of. After the death of their mastermind, the band is now lead by Shawn Sahm, a son of Sir Doug. And there is another combo: THE TEXAS MAVERICKS. Sahm and his companions took rockabilly and rock'n'roll of the late Fifties for inspiration and played it in their very own style.
On a whim of Sahm, the debut was titled "Who Are These Masked Men?" But pretty quick, it became obvious who was behind the TEXAS MAVERICKS. Thanks to his good contacts in Europe Sahm booked a tour parallel to the album release which also brought the quintet to Germany in 1987. Says Sparks, then the guitarist of the band: "I do remember that we played in Hamburg, Berlin, Stuttgart, Bremen and probably several other cities. Mostly it was clubs and smaller halls – just the right size for this kind of music and we really enjoyed it." Sparks reveals: "I am thrilled with it – I like these recordings far better than the studio recordings because they have captured all that what the band was about at that time: pure energy, enthusiasm and simply class. I finally figured out what a magnificent rhythm guitarist Doug really was when listening to this edit", Sparks nearly goes into raptures.
After the visit in Germany, the chapter TEXAS MAVERICKS had soon closed again for Sahm. "Doug had so many bands running side by side and considered the Mavericks primarily as a fun project – he had the Sir Douglas Quintet, his Blues band and of course the Texas Tornados, there was no time for another combo", Sparks explains the short lifespan of the TEXAS MAVERICKS. After all, the re-release of "Who Are These Masked Men?" with the Bremen concert as bonus CD brings back the memory of the man that many consider as the forefather of the Tex-Mex scene.