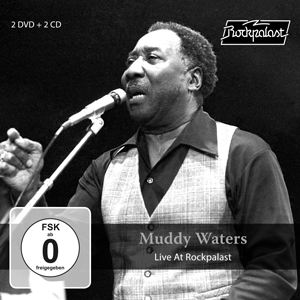 Muddy Waters hatte ein gutes Gespür für Talente und entsprechend fast immer eine exzellente Band im Rücken, aber seine Begleittruppe von 1974 bis 1980, die auf der vorliegenden DVD zu hören ist, war eine seiner allerbesten: Der Pianist Pinetop Perkins kam schon 1970 nach dem Tod von Otis Spann in die Band, mit dem Schlagzeuger Willie "Big Eyes" Smith arbeitete Muddy sogar schon seit 1964 zusammen. Der solide Bassist Calvin Jones kam 1971 dazu, 1973 die beiden Gitarristen Luther "Guitar Jr." Johnson und Bob Margolin. Abgerundet wurde die Band 1974 durch den exzellenten Mundharmonikaspieler Jerry Portnoy, der später u. a. erste Bluesharp-Wahl für Eric Clapton wurde.
Permanentes Touren machte diese Besetzung zu einer top eingespielten Truppe, die ihren charismatischen Leader optimal unterstützte, als sie am 10. Dezember 1978 die Bühne der Dortmunder Westfalenhalle für die Rockpalast-Aufzeichnung betrat. Muddy Waters selbst war zu dieser Zeit noch voll auf der Höhe seiner Schaffenskraft, sein mächtiger Gesang und seine großartige Bühnenausstrahlung zogen das Publikum in seinen Bann. Muddys Gitarrenspiel kam besonders bei seinen typischen Slowblues-Slidegitarrensoli auf der in normaler Stimmung gespielten Fender Telecaster E-Gitarre zur Geltung – und selten hatte Muddy einen dermaßen heißen Sound wie bei diesen Fernsehaufnahmen des WDR. Die Songauswahl des Abends bestand aus einigen seiner größten Hits, die wahrscheinlich jeden Abend zum Pflichtrepertoire gehörten ("Hoochie Coochie Man", "Walkin' Thru The Park", eine grandiose Version der Macho-Hymne "Mannish Boy" und natürlich das unsterbliche "Got My Mojo Workin'"), aber auch seltener gespielte Titel wie "Soon Forgotten" von St. Louis Jimmy Oden oder "Country Boy", beides atmosphärische Slowblues mit Slide.
Als Bonus gibt es einen Mitschnitt der Muddy Waters Tribute Band vom Rockpalast Open Air auf der Loreley 1996, wo die (noch gesunden) Mitglieder der alten Band zusammen kamen, bei "Gone To Main Street" ist als Gastsänger Levon Helm von The Band zu hören.
---
Tracklisting CD/DVD: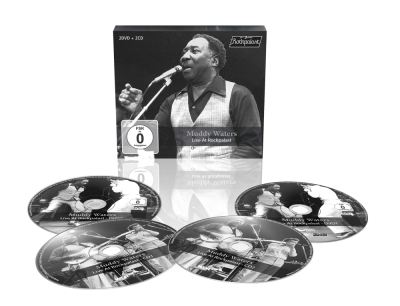 DVD 1/ CD 1: 10. Dezember 1978 , Westfalenhalle Dortmund
01. Intro 01:11
02. I'm Your Hoochie Coochie Man (Willie Dixon) 03:23
03. Soon Forgotten (St. Louis Jimmy) 04:42
04. Baby Please Don't Go (Big Joe Williams) 03:53
05. They Call Me Muddy Waters (Muddy Waters) 08:04
06. Walkin' Thru The Park (Muddy Waters) 03:28
07. Country Boy [All Night Long] (Muddy Waters) 05:07
08. Kansas City (Jerry Leiber, Mike Stoller) 07:13
09. Caledonia (Fleecie Moore) 04:56
10. Everything Gonna Be Alright (Little Walter) 03:22
11. Mannish Boy (Muddy Waters, Mel London, Bo Diddley) 06:26
12. Got My Mojo Working (Preston Foster) 02:40
13. Sweet Home Chicago (Robert Johnson) 04:25
DVD 2/ CD 2: June 23, 1996 Open Air Festival Loreley
01. Clouds In My Heart (Muddy Waters) 04:34
02. Walkin' Thru The Park (Muddy Waters) 04:03
03. You Can't Lose What You Ain't Never Had (Muddy Waters) 04:46
04. You Don't Have To Go (Matcher James Reed) 04:50
05. Honey Bee (Muddy Waters) 04:50
06. Everything Gonna Be Alright (Little Walter) 05:19
07. Laundromat Blues (Sandy Jones Jr) 06:30
08. I'm Ready (Willie Dixon) 05:15
09. If the Washing Don't Get You, The Rinsing Will (Homer Banks, James Cross, Allen Jones) 04:05
10. Hard Hard Way (Willie Smith, Anthony Melio) 03:32
11. I'm Your Hoochie Coochie Man (Willie Dixon) 05:36
12. Gone To Main Street [feat. Levon Helm](Muddy Waters) 04:03
13. Got My Mojo Working (Preston Foster) 04:30
14. Mannish Boy (Muddy Waters, Mel London, Bo Diddley) 06:02
Tracklisting Vinyl: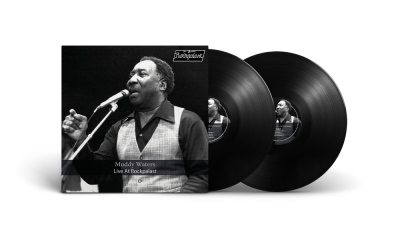 10. Dezember 1978, Westfalenhalle Dortmund
SIDE A
01. Intro 01:11
02. I'm Your Hoochie Coochie Man (Willie Dixon) 03:23
03. Soon Forgotten (St. Louis Jimmy) 04:42
04. Baby Please Don't Go (Big Joe Williams) 03:53
05. They Call Me Muddy Waters (Muddy Waters) 08:04
Total Side A: 21:13
SIDE B
06. Walkin' Thru The Park (Muddy Waters) 03:28
07. Country Boy [All Night Long] (Muddy Waters) 05:07
08. Kansas City (Jerry Leiber, Mike Stoller) 07:13
09. Caledonia (Fleecie Moore) 04:56
Total Side B: 20:40
SIDE C
10. Everything Gonna Be Alright (Little Walter) 03:22
11. Mannish Boy (Muddy Waters, Mel London, Bo Diddley) 06:26
12. Got My Mojo Working (Preston Foster) 02:40
13. Sweet Home Chicago (Robert Johnson) 04:25
Total Side C: 16:53
SIDE D
14. You Can't Lose What You Ain't Never Had (Muddy Waters) 04:46
15. You Don't Have To Go (Matcher James Reed) 04:50
16. Honey Bee (Muddy Waters) 04:50
17. Everything Gonna Be Alright (Little Walter) 05:19
Total Side D: 19:45
---
Photos by Manfred Becker
---
Videos