Dave Kelly – Family & Friends – We Had It All
Dave Kelly – ist einer der Gründer der legendären britischen The Blues Band, die mit Maggie´s Farm als eine der wenigen Blues Bands einen Top Ten Hit platzierten und noch heute Blues Standards in der britischen Bluesszene setzen.
Dave Kelly gilt als der führende Slideguitarist der britischen Inseln und setzt neben der Leadguitare in der Blues Band auch Akzente als Sänger durch wechselnde Gesangparts mit Paul Jones.
Dave Kelly ist seit über 45 Jahren stilprägend in der britischen Blueszene unterwegs. In New York jammerte er mit Muddy Waters. Er wurde ein Freund von Howlin 'Wolf und John Lee Hooker, in dessen britischen Touring Bands er in den 60er Jahren spielte. Es war Dave´s große Schwester, die verstorbene Jo-Ann Kelly – die heute in Britain als legendäre Bluessängerin gilt – die seine Leidenschaft für den Blues und Rock and Roll öffnete. Im Jahr 1967 gründete er die John Dummer Blues Band. Nach drei Bandalben konzentrierte sich Dave Kelly verstärkt auf seine Solokarriere, es folgten zahlreiche Soloalben. 1979 gründete er zusammen mit PAUL JONES und TOM McGuinness von Manfred Man die heute legendäre und immer noch aktive The Blues Band.
Aber auch die eigene Dave Kelly Band ist bis heute musikalische aktiv und durch diverse Duo Projekte wie die Zusammenarbeit mit MAGGIE BELL oder CHRISTINE COLLISTER, wuchs seine Fangemeinde.
Dave Kelly – Family & Friends "We Had It All" sind 18 unveröffentlichten Tracks aus seiner über 45-jährigen musikalischen Reise.
Eine Art Anthologie, die aufzeigt, mit welchen Musikern Dave Kelly gearbeitet hat und noch arbeitet, dabei u. a. Howlin Wolf, Paul Jones, Long John Baldry, Eric Bibb, Chris Barber, Maggie Bell.
---
…mehr Dave Kelly: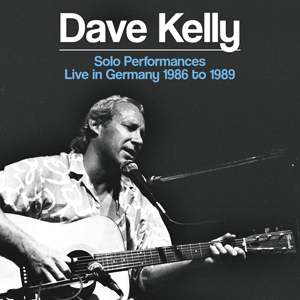 Solo Performances Live In Germany 1986 To 1989
---
Tracklist:
New Stockyard Blues 03:32
(feat. Pete Emery, Marcus Cliffe, Sam Kelly)
Needed Time 04:49
(feat. Eric Bibb)
Dust My Blues 07:22
(feat. Howlin Wolf)
Good Riddance 02:40
(feat. Homer Kelly-Tarrant, Christine Collister, Peter Filleul)
The River 04:00
(feat. Chuck Leavell, Frank Collins, Paddie McHugh & Dyan Birch, Pick Withers)
Ramblin Gal 03:36
(feat. Jo-Anne Kelly)
Passing Through 04:11
(feat. Keith Nelson, Cedric Thorose, Ian 'Thump' Thomson, Pete Miles)
Wasting Time 02:52
(feat. Lily Kelly-Tarrant)
Love Is A Compromise 04:24
(feat. Lou Stonebridge, Steve Donnelly, Gary Fletcher, Rob Townsend)
Gulf Coast Highway 03:16
(feat. Maggie Bell, Keith Nelson, Julian Dawson, Homer Kelly-Tarrant)
Sugar Babe 02:48
(feat. Keith Nelson)
Way Down In The Hole 03:12
(feat. Christine Collister, Homer Kelly-Tarrant)
Estes Said 04:01
(feat. Chris Barber)
D-Day Blues 04:04
(feat. Jona Lewie)
Too Young To Know 03:08
(feat. Paul Jones)
Take This Hammer 04:00
(feat. Long John Baldry)
Slide Guitar Rag 03:08
(feat. Sonny Black)
We Had It All 03:30
(feat. Julian Dawson, Keith Nelson, Homer Kelly-Tarrant)
Total:   ca. 69 Min